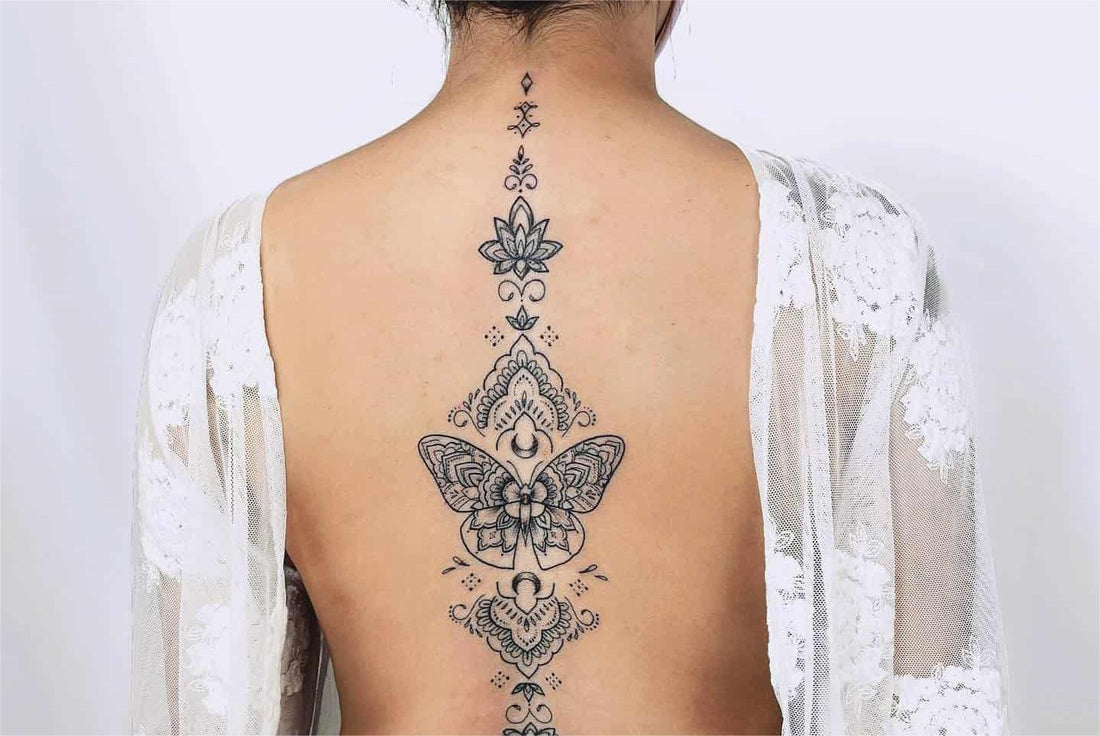 10 Tattoo Ideas for Women's Back
These 10 women's back tattoo ideas will decorate your spine, shoulders, and mid-back with beautiful designs. Your back is a brilliant canvas for a tattoo artist to get creative. For lower back designs, keep scrolling down through our women's tattoo ideas guide.
Henna Style Spine Tattoo
The beautiful yet simple black lines almost appear like a henna design, but this is a permanent tattoo. It follows your spine to highlight length and elegance.
Women's Mid-Back Scene Tattoo
From vertical to horizontal, this tattoo creates a moon and sun scene using your mid back as a canvas. The large size of tattoo you can fit here allows minute detail.
Matching Friendship Tattoos
Matching sun and moon tattoos for friends or lovers. These are beautifully designed – but you could opt for a smaller yet equally beautiful matching tattoo on your shoulder instead.
Women's Snake Tattoo
This tattoo is a great example of a back and shoulder tattoo that flows well over the space. The simple black lines and traditional style are truly eye-catching.
Traditional Full Back Tatt
Another snake tattoo! This one is a work in progress (part-way through shading) but you can see how well the entire back space is filled with the design.
Bouquet Between Shoulder Blades
Between the shoulder blades is a very popular and feminine spot for a tattoo. You can also cover this tattoo with a racer-back style top easily, if need be.
Contemporary Hand Poke Line Art
This line art is incredibly contemporary and looks beautiful on the woman's back. With the tattoo placement on an arm or leg, you wouldn't achieve the same fluidity and grace.
Spine Script
Pick your favorite font or calligraphy for this quote – the wide expanse of your back allows you to use elaborate fonts that are large enough to be readable from a distance.
Upper Back Spread Tattoo
The shape of this tattoo makes use of the broad shoulder area. Angel wings, birds, and even bats fit here nicely. Lovely for showing off your shoulders and upper back!
Portrait Tattoo
This wolf tattoo with floral detail shows how a small portrait could look good on your back when the sizing and placement is right. The shading on this is stunning.
Disclaimer – Information provided in the blog article is based on personal opinions and experiences, for general reference only. The blog article may contain external websites or resources, if any of the content belongs to the original copyright holder, please contact us for removal.