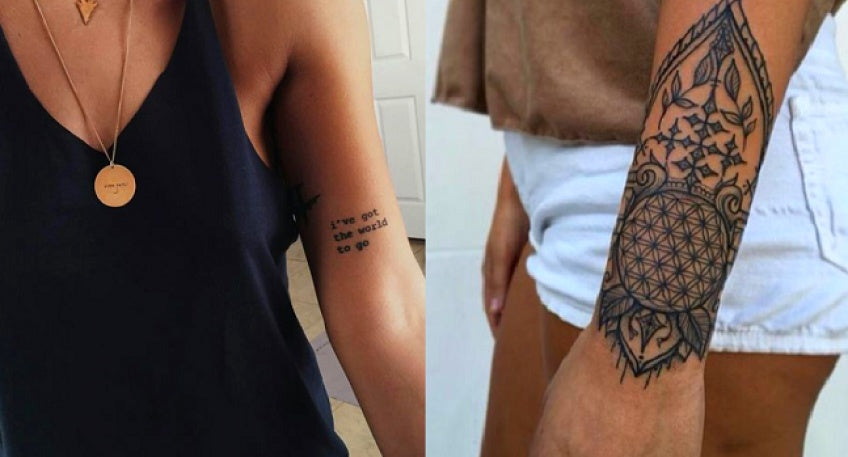 What Tattoo To Make According To His Astrological Sign?
Do you want a tattoo but lack inspiration? Here are some tattoo ideas that perfectly match your zodiac sign... never get tired! Who has never thought of getting at least one tattoo in their life?
It must be admitted that this is not a trivial matter, nor is it a rash decision! While some people decide to take action purely on a whim, for others, it is a precious memory that is forever etched in their hearts.
What if your tattoo could perfectly blend with your personality? That's where finding inspiration that matches your zodiac sign can be helpful. And when it comes time to get your tattoo, using a wireless tattoo pen can provide greater flexibility and ease of use for the artist. With a wireless tattoo pen, you can achieve precise details and lines that match the inspiration from your zodiac sign. So, here are some inspirations that perfectly match your zodiac sign... not bad, right?
How to choose the tattoo that suits you?
For example, draw inspiration from your zodiac sign!
Aries tattoo
One or two tattoos! Aries, you value time and love trying new things whenever there's an opportunity! Ambitious, nothing can stop you. Undeniably a fire sign, vitality and frankness are part of your personality. Despite having a rough side, you are a kind-hearted person who will go to great lengths to help those you love. In terms of tattoos, we suggest that you choose a date that corresponds to an event that marked your life. Your sister's birth, the first time you met your boyfriend? Everything is allowed! Inspired by personal experience, the advantage of this tattoo is that it has real meaning, and you won't regret it in the future.
Taurus tattoo
Small wrist tattoo: stylized sun Taurus is satisfied with simple things. They crave calm and tranquility, knowing how to appreciate the daily small pleasures that life offers them. Hardworking Taurus women provide themselves with a path to success and will not hesitate to make concessions to execute their life plans as best they can. A born hedonist, she enjoys a fulfilling life and learns from those around her. As for your tattoo, why not let yourself be tempted by a design that reminds you of your taste for a sweet life? A sun, a flower... as you please!
Gemini tattoo
Gemini women are known for their complex and sometimes cunning personalities. Their sudden emotional swings can indeed surprise those around them, which can become boring in the long run. However, they are curious, open-minded, and complete in their chosen field, and they excel when it comes to projects that involve their innermost being. Yes, Gemini people live bravely and never give up. A tattoo expressing the concept of duality will perfectly blend with your personality: moon and sun, yin and yang... if you're conquered this time, all you have to do is decide!
Cancer tattoo
Cancer women are naturally creative and sensitive, and like to follow their intuition, which is often proven effective. To develop calmly and get satisfaction, they need to feel love and support in everything they do every day. They are very selfless, like to give without counting the cost, and are very concerned about their circle of friends. The same goes for their family circle, which is significant for them. Regarding your tattoo, we would recommend a symbol with strong emotional value! Name, initial... it's up to you to decide.
Leo tattoo
Leo women are sun people who like and constantly feel the need to please. She is generous, always meticulous, warm-hearted, and immediately arouses sympathy among the people she meets in everyday life. Whether in her professional environment or her home, Leo women feel the need to shine brightly in any situation. A bit dramatic, her charm and generosity are where she shines the most! Why not get a crown tattoo? Perfectly representing your royal side!
Virgo tattoo
A perfectionist who always pays attention to details, Virgo women like to do things right! She attaches great importance to the profession she practices, is intelligent, and often likes to take on new challenges. Sensitive and sentimental, she likes to be cautious and always shows humility in society. Virgo women are considerate and observant, and can easily identify new people they meet without any effort. A sentence from a bedside book that you can easily identify will summarize your mindset perfectly, and therefore, make a perfect tattoo!
Libra tattoo
Charming and captivating Libra women immediately inspire confidence and security. Naturally attracted to beauty, the latter is an essential part of her universe. She is always looking for new things in various fields, and overall, she likes innovation. One way to ensure that she never gets bored! Deeply humane, she likes to be with those she loves and making them happy is what matters most! Therefore, you can get a tattoo with the person you love to further validate the bond that unites you!
Scorpio tattoo
You are a woman of exceptional character, full of allure and with an unwavering determination to get what you desire when it comes to matters close to your heart. Your leadership skills mean you can effortlessly impose yourself on a team and express your ideas as you see fit. Independent and unafraid of solitude, sometimes you need to be alone for a moment to find yourself. A beautiful flower, whether in black and white or in color, is the perfect tattoo to highlight your feminine charm and sensuality! Warning: we suggest you choose a delicate design where everything is subtlety rather than something too grand that you may grow tired of.
Sagittarius tattoo
Naturally playful and mischievous, Sagittarius women love adventure! Full of energy and vibrant, she often plays the role of a driving force in her relationships, both friendly and romantic. She is always cheerful, with a keen ability to see things from a different perspective. It's great to be around her because in moments of low morale, she can always find the right words. On the other hand, if it's necessary to set someone back on track, she won't hesitate to be frank. In short, Sagittarius women are like ideal friends and partners that everyone needs. For your tattoo, you can choose a saying that reflects your life philosophy!
Capricorn tattoo
Capricorn women are naturally shy and introverted. So don't rush it! Gaining their trust requires perseverance. On the other hand, once gained, she will do everything possible to be loyal, kind, and just, if deserved. A bit dreamy and idealistic, she likes to believe in those around her. She is rigorous and determined, moving at her own pace but always achieving her goals. A star design presented in the most obvious way for you is very suitable for representing your Utopian side.
Aquarius tattoo
Original and creative, Aquarius women are clever and agile, and love challenges! Bold, she likes to innovate in everything she does. She enjoys interacting with others, and the concept of "living together" is very important to her. Ambitious by nature, the latter exudes an infectious optimism and likes to encourage those around her! To best represent your life philosophy and mindset, we suggest you choose a mandala tattoo. Reflecting the concept of luck and the "happy medium," it will fit you like a glove!
Pisces tattoo
Pisces women belong to the water element and are naturally highly sensitive. Utopia and dreams, she too is an idealist who loves tranquility, whether alone or with others. Natural gifts destined for her to shine in the medical field or even the art world, more specifically as a musician or poet. In terms of tattoos, we suggest you choose something colorful that reflects your shining personality! Why not choose a butterfly or flower?
Disclaimer – Information provided in the blog article is based on personal opinions and experiences, for general reference only. The blog article may contain external websites or resources, if any of the content belongs to the original copyright holder, please contact us for removal.