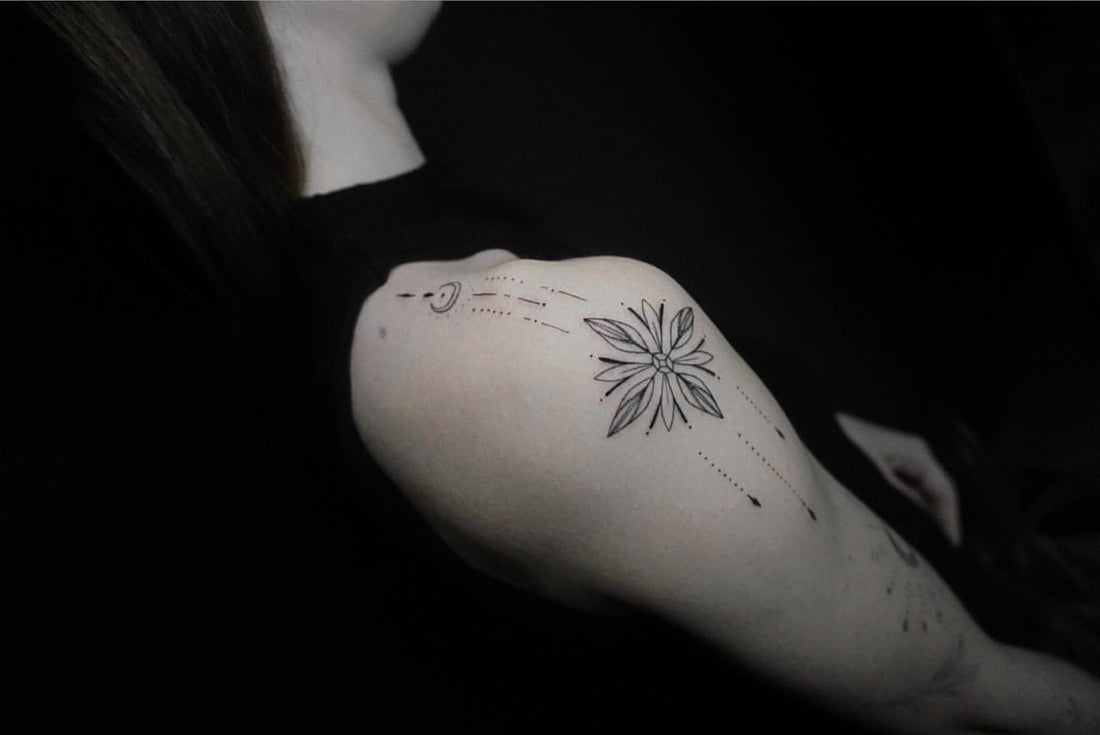 10 Tattoo Ideas for Women's Shoulder Area
The shoulder area is a lovely place to get a tattoo! Show off your feminine shoulders in a strapless top and put your body art on display. Women's shoulder tattoos can be at the front by the collar bone, on the shoulder corner, or on the shoulder blade.
Why Women Get Tattoos on Shoulder?
Although there is a lot of room for expansion in shoulder tattoos, there is not much space in the shoulder alone, which connects the neck, chest and arms.
Depending on the design, you can also get inked on the front shoulders, shoulder blades, outer shoulders, or upper shoulders. A good design with the right placement will complete your body. One of the great things about shoulder tattoos is that you can choose to hide or show them. Unlike finger tattoos, which are exposed most of the time, clothing with sleeves will hide them. Instead, you can change into a vest if you want to show them off.
This is why there are so many designs of shoulder tattoos, especially for women. Large, tiny, colorful, black and gray, sophisticated or minimalist, the shoulder is the canvas for your imagination.
With so many options, it can be challenging to decide on the design you want. So here is a list of shoulder tattoos for women. From small to large, black to colorful, these amazing and unique tattoo ideas will inspire your next tattoo.
Shoulder to Collar Bone Tattoo
This summery, delicate tattoo looks lovely gracing over a shoulder. The curves of the feminine tattoo will curl around your collarbone beautifully.
Minimalist Dream Catcher
No colors but a lot of charm. This simple fine line tattoo over the shoulder looks like a kind of minimalist dream catcher to us. What do you think?
Butterflies Tattoo
Fluttering butterflies! The size of these butterfly tattoos is absolutely perfect for the shoulder area. Large enough to be seen, but small enough to flutter. Tattoo size is an important factor.
Fine Line Shoulder Tattoo
Cool and quirky. Get your favorite cocktail tattooed on your shoulder – or any item or icon you like, really. Small hearts, initials and stars look particularly good in this style.
For intricate tattoos, there are many beautiful options with a wide variety of designs to choose from! However, opting for fine lines and small to medium-sized designs can bring about an elegant style for shoulder tattoos.

Small and delicate tattoos inspired by heart tattoo ideas for the shoulders. A small heart design only brings about an outline, making it a beautiful and understated choice.
Traditional Tiger Shoulder Tattoo
Using the back of the shoulder allows you more space to work in detail. This black and grey tiger tattoo is artfully created with just the right level of shading.
Science Line Tattoo
We're loving the science theme, but you aren't limited to it. This womens tattoo idea shows how the top of the shoulder is a brilliant placement for sentence-length tatts.
Floral Shoulder Cap Tattoos
This tattoo artist uses blackwork, but a colorful floral tattoo looks good here too. It's also a good womens shoulder cover-up tattoo, as it's bold and uses thick lines.
Quote Tattoo on The Shoulder
Running from the back of your neck to the tip of your shoulder, you have a neat and straight line to follow… so it's no surprise that this is a popular placement for quote tatts.
Symbolic Womens Shoulder Tattoo
How cute is this little heart symbol? The shoulder area provides a medium-small space that's great for circular type icons and symbols. Naval stars look cool here too.
Minimalist Astrology Tatt
A single small tattoo would look a little lost but creating a miniature galaxy with many tiny tattoos works really well. We love how delicate this modern tattoo is.
Disclaimer – Information provided in the blog article is based on personal opinions and experiences, for general reference only. The blog article may contain external websites or resources, if any of the content belongs to the original copyright holder, please contact us for removal.