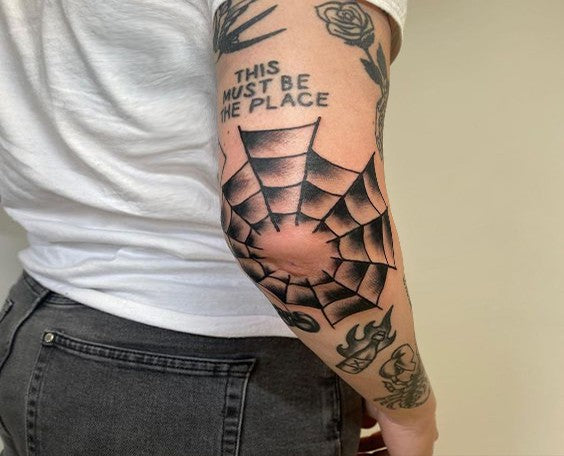 Between tradition and avant-gardism, the tattoo gets a makeover
Tattooing is becoming more and more rooted in our mores. The profession has changed a lot and must now face the challenges of a new generation, between respect for the elders and modernity.
Long considered the mark of pariahs, tattooing has become almost commonplace , popular enough to support international conventions like the Tattoo Planetarium, which took place November 4-6 at La Villette and brought together more than 500 artists from around the world. of the globe and 15,000 visitors. The proof that the tattoo is now within everyone's reach. "Everyone has realized that they can wear a tattoo without looking like a hoodlum ," explains Abdel Pedro, a wireless tattoo pen artist. Certain patterns had connotations, such as the spider's web on the elbows, but over time they were reinterpreted and passed into the imagination and common vision.
Ink is attracting more and more followers and it is not about to stop. Each artist recognized for a unique style is booked for a long time, often for the year. A success that can be explained not only by the positive vision of tattooing but also by its ability to transcend social classes and age categories. Increasingly present on the catwalks of fashion shows, it is becoming a marker of taste, also appreciated by luxury brands, which no longer hesitate to collaborate with tattoo artists.
Double-edged minimalism tattoo
If the imposing and/or showy pieces underline a better acceptance of tattooed bodies, one of the great trends of modern tattooing is in fact the creation of extremely refined models in the form of geometric lines, as opposed to the flat areas that adorn the body. older tattoos. Facilitated by the transition from the bobbin machine to the rotary machine, this style is gaining popularity, particularly with a female audience that still favors discreet patterns.
A fad that has also spread thanks to social networks and is not without risk: "Often, people bring us photos and they say to us: 'Look there, I saw it on the Internet, it exists c 'is doable', and we have to tell them, 'Beware because if you get the sun or whatever, the lines are going to thicken up a bit and they're going to touch each other. If it's too light, your tattoo in two years, it won't be there anymore.' We explain to them because we are there to educate them, but sometimes people are more attached to the photo of their tattoo than to the tattoo itself, which is quite strange", recognizes Abdel Pedro who has already refused to answer several times. to this request, which he believes will continue.
Colors vs "black work"
Among tattoo artists, being trendy is generally not the desired goal. "Tattoos and trends are not words that go well together because, unlike clothes and fashion, tattoos remain," says Maud Dardeau, who developed a style in France inspired by Gustave Doré's engravings in the 2010s. Working only on estimates, it offers a unique experience, acclaimed by its customers, who do not hesitate to come from far away, such as the United States, Brazil, or even Canada for quality "pieces" that only the Bordelaise can offer them. Estimates can range from a few hundred dollars for the smallest creations to several thousand dollars for a full body…
Still, ink and needle junkies seek to stay close to their fundamentals. Patterns such as the pin-up, the sea anchor or even tribal symbols remain relevant in the world of tattooing. But some also choose to breathe a touch of modernity into old practices: "By drawing on tradition, but also with a little innovative side, artists are making their revolution", confides Emma Rouquette, a realistic tattoo artist who hopes to bring her own stone to the building.
While many young tattoo artists still insist on respecting the teachings of those who came before them, they hope to inject new values into the profession, closer to those dear to their generation: "We are more concerned about emerging ecological interests. We are trying to turn to less harmful materials because the profession relies a lot on plastic, but biodegradable supplies are still overpriced at the moment" .
Professionals are also fighting for recognition of their work, not only with the general public, already seduced, but with institutions. "People see us less and less as outsiders. But we have to believe that this is not the case with the authorities of the State , "laments Emma Rouquette. The last blow now, the ban on the use of certain colored inks January 2022. Having to find substitute inks has serious economic consequences for tattoo artists and, in some cases, the alternatives offered, more diluted, do not have the same rendering on the skin, which remains a complicated medium to work with. From 2023, some blue and green pigments could even disappear, a major threat for artists who work in color.
Virtual tattoos
At a time when skin work poses constraints, patterns, like works of art before them, are taking the virtual world by storm through NFTs. In the United States, the All Our Best platform, created by the famous professional Scott Campbell, makes it possible to buy unique virtual tattoos and in return guarantees an appointment with this very popular artist.
Disclaimer – Information provided in the blog article is based on personal opinions and experiences, for general reference only. The blog article may contain external websites or resources, if any of the content belongs to the original copyright holder, please contact us for removal.