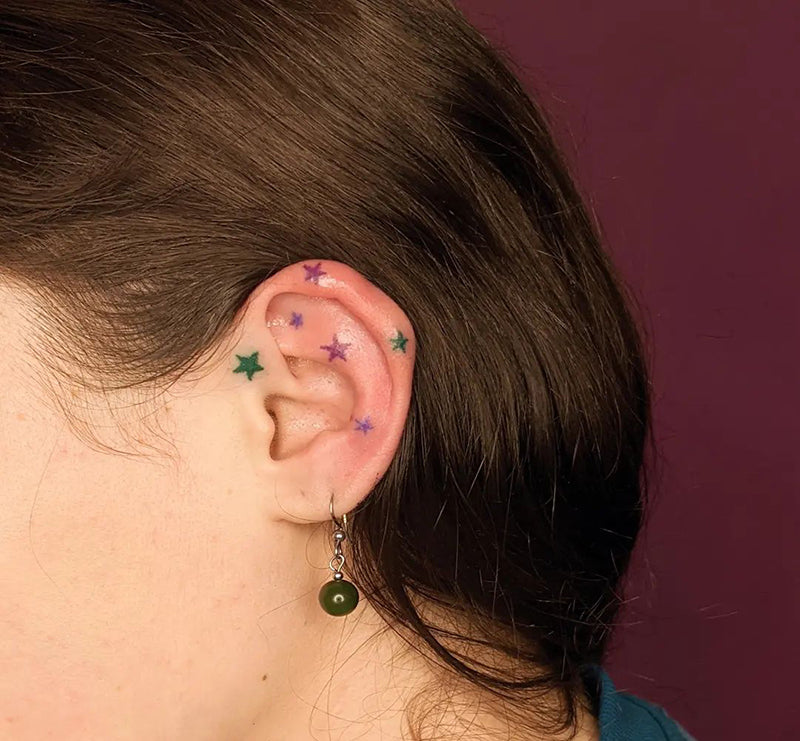 Ear Tattoos: Inspiration and Design Ideas
Tattoos on this unusual part of the body are the latest trend that's getting people talking!
For those wanting to enjoy body art without making a bold statement, discreet and minimalist tattoos created with the help of a tattoo machine can be a great choice. Offering something meaningful and symbolic without it being instantly visible to others.
The ears are a part of the body where we think especially for piercing , but lately we could notice an amazing new trend: the mini tattoos on the ear.
What to know before getting a tattoo on the ear
Since the ear is a very small part of the body (unlike the arm, back or chest for example), the tattoo cannot be too extensive or elaborate. On the other hand, it is amazing to see how creative it is possible even in these circumstances, as the examples presented below prove.
Keep in mind though: the ear is mostly made up of cartilage, with minimal skin and very little, if any, fatty tissue inside. As the ears are extremely sensitive - to the point of being considered an erogenous zone - one can suspect that this type of tattoo is particularly painful.
At least, since they are delicate mini tattoos, this pain, which can be alleviated with the help of a numbing cream applied beforehand, should not last very long.
The advantage of a minimalist ear tattoo is of course that you can completely hide it if you have long hair!
1. Vegetal pattern tattoo
Many people take advantage of the thin and rounded shape of the ear to tattoo a plant motif: a stem, leaves, flowers...
2. Stylized lines tattoo
Another gorgeous ear tattoo style: stylized curved lines that cross the ear and give the impression of movement.
3. Discreet lines tattoo
Another pattern that we see a lot as a tattoo on the ear: very small lines, as if we were wearing rings around the lobe of the ear. Sometimes this type of tattoo is embellished with small dots or other designs.
4. Colorful stars tattoo
Stars are also a popular design for a tattoo. You see a lot of minimalist ear tattoos in black ink only, but these examples show how pretty the color is too.
5. Simple patterns tattoo
Hearts, moons and other small symbolic designs are also particularly suitable for tattooing on the ear!
6. Gothic inspiration tattoo
Perfect for people who adore gothic style or who are just eternal Halloween lovers! Cobwebs or bats are other designs that are often seen as ear tattoos.
7. Helix shape tattoo
The ear, as it is in "3D", is the perfect place to create a helix-shaped tattoo, which seems to wrap around the earlobe. This is a more difficult tattoo to achieve, but is simply captivating to look at, as seen in this snake example.
Disclaimer – Information provided in the blog article is based on personal opinions and experiences, for general reference only. The blog article may contain external websites or resources, if any of the content belongs to the original copyright holder, please contact us for removal.