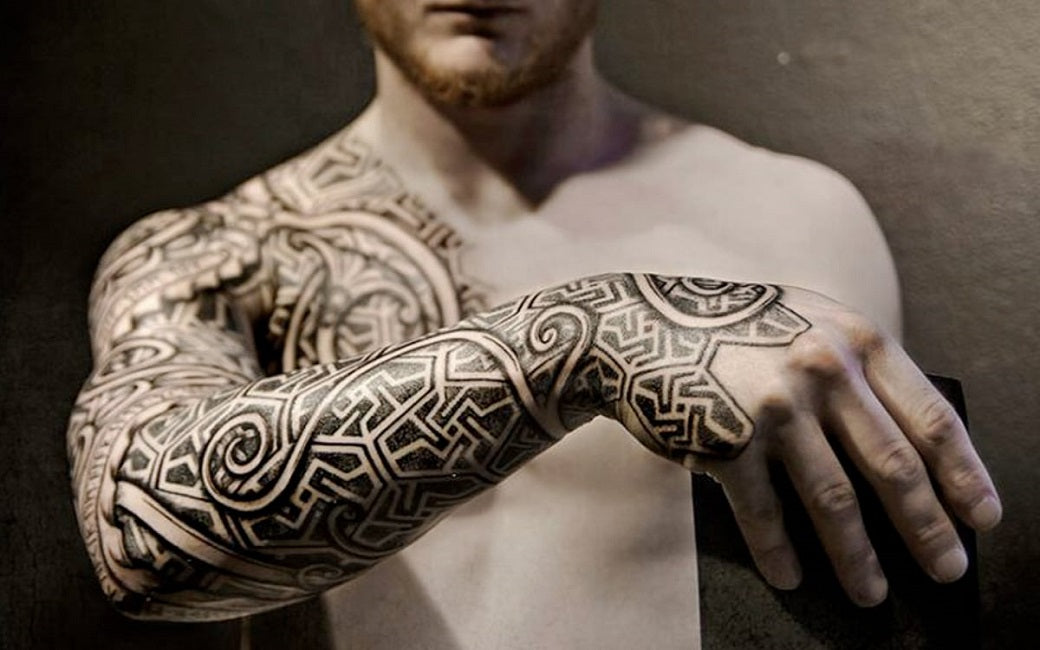 What You Should Know About Tattoo Sleeves
Over 5,000 years have passed since tattoos were first created.

Increasing social acceptance and intricate styles and designs have boosted their popularity in recent years. A tattoo sleeve is the best way to display a stunning, intricate piece of art right on your arm (or leg).
Tattoo sleeves: what are they?
Tattoo sleeves are large tattoos or a series of smaller tattoos that wrap around someone's limb. Even though leg sleeves are becoming more popular, they have traditionally been worn on the arms.

In many cases, the sleeve has a cohesive theme, such as color or style, but sometimes it's just a collection of different tattoos. The reason they're so popular is that they allow people to express themselves through meaningful art on their bodies.
Tattoo sleeves require patience because they require a lot of time and effort.

Besides knowing how much it will cost, how many sessions it will take, and how much pain it will cause, you'll also want to know what design you're looking for.
The process of getting a tattoo sleeve
1- Idea creation process 
Ideally, you come to the store with the idea of the sleeve you want to tattoo so you can discuss it with your tattoo artist and make the piece of your dreams.

If you want to buy a sleeve but don't have any ideas, that's okay, we've got you covered.

However, if you need personal assistance, you can turn to a professional tattoo artist who can provide professional guidance.
2- Sessions Planning
It is highly recommended that you plan the sessions with your tattoo artist once you know what piece you will be getting.

Your tattoo artist's speed, the style, and the size of the tattoo will determine how many sessions you need.

The artist must heal some pieces before continuing to work on them. After you have this information, you can schedule sessions and start working on the project.
3- Tattooing Process 
Expect long sessions when getting a sleeve.

It is important to bring water and/or snacks to keep your body in the best possible condition during the process.

It is common for people to bring their headsets, phones, or other devices to keep themselves entertained while they wait for their pieces.
4- Proper Aftercare 
The importance of this part of the process cannot be overstated. This is especially true when getting a sleeve.

A good-looking sleeve can be transformed into an amazing-looking sleeve by ensuring proper aftercare.

Additionally, your skin will be healthier, preventing any complications. It's a win-win situation.

Learn how to take care of your tattoo after you get it and follow these aftercare instructions.
A Tattoo Sleeve: 3 Things to Know
1- Be patient.

There will be several long sessions required to tattoo sleeves. But it's alright, we'll make sure you have a good time throughout.
2- A good communication with your tattoo artist is essential.

The importance of communication with your artist cannot be overstated when it comes to sleeves.

Please feel free to ask questions, share ideas, and raise any concerns you may have.

Getting the tattoo of your dreams is easy with tattoo artists who have years of experience and are happy to assist you every step of the way.
3- Make sure you come well-rested to the session.

Before a long session, it is recommended that you get a good night's sleep. With this, you and your skin will be able to endure the session in the best possible condition.
Tattoo Sleeve Types
Sleeves take full advantage of the interesting, 3D canvas that arms and legs offer. There are three types of tattoo sleeves: full sleeves, half sleeves, and three-quarter sleeves. 
Full sleeve
It runs from the top of the arm and shoulders down to the wrist; it is the most extensive tattoo sleeve you can get. There are times when it trails onto the fingers and hand.

It is not necessary to have only one tattoo for this sleeve. A series of pieces can flow down the arm instead.

People usually get tattoos in the same style on a full arm sleeve to make the final result more cohesive.
Half Sleeve

Typically, half-arm tattoo sleeves run from the top of the arm to the elbow.

Having the most surface area on the top of the arm allows for larger, more detailed tattoos. Tattoo portraits or intricate patterns are common here.

A half-arm sleeve can also trail off into the inside of the forearm, giving the tattoo a more subtle outline.

Sleeves that run from the elbow to the wrist are also considered half-arm sleeves.
Three-Quarter Arm

The three-quarter arm is another less common type of tattoo sleeve. It runs from the top of the arm and shoulder down to about halfway down the forearm.

If you are interested in converting it into a full arm sleeve, this type of tattoo is more common for abstract tattoos.
There are countless options when it comes to tattoo sleeves.

Let our talented tattoo artists create a one-of-a-kind tattoo sleeve for you by combining skill, style, and originality.
Conclusions
The decision to get tattoo sleeves is a long-term one that requires a lot of patience and skill.

When it comes to tattoos, there are so many different styles and symbols that it can be difficult to choose just one.

This is what makes tattoo sleeves so unique, you can combine many different shapes, symbols, colors, and styles to create one cohesive piece of art.
Disclaimer – Information provided in the blog article is based on personal opinions and experiences, for general reference only. The blog article may contain external websites or resources, if any of the content belongs to the original copyright holder, please contact us for removal.