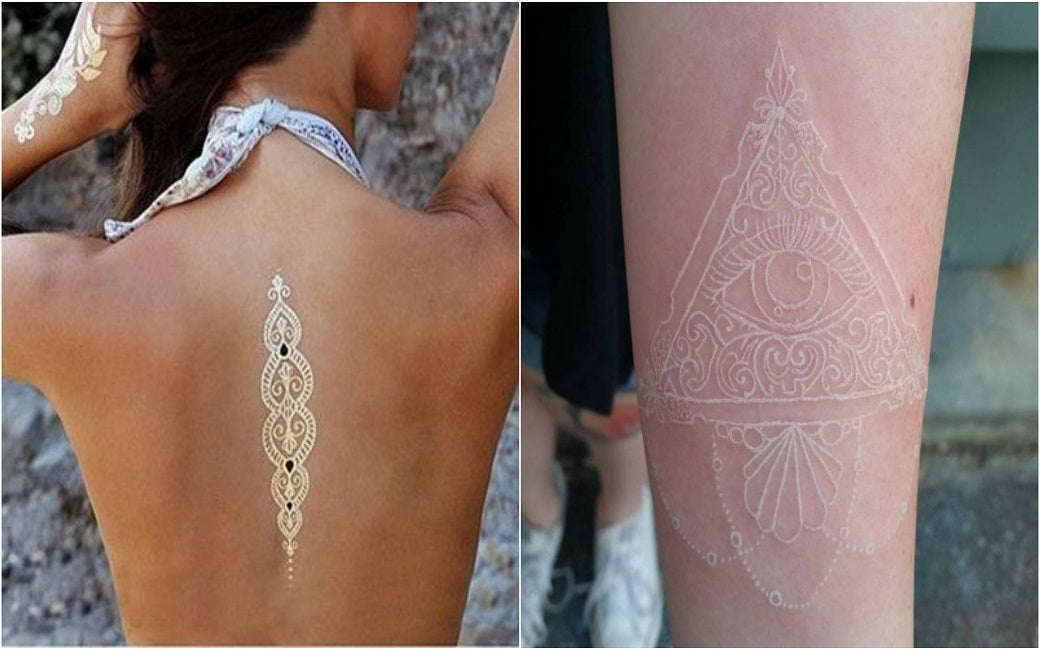 White Tattoos on Dark Skin: Everything You Need to Know
Creative expression can be expressed in new ways through tattoos. Whether it's full sleeves or elaborate tattoos, the options are truly endless. Choosing the right design for your personality takes time, and that's understandable. No one wants a permanent piece of art they don't like, even with the technology available to remove tattoos. For people with darker skin tones, the same should be applied when choosing ink. The white ink tattoo is all the rage right now, but are they worth the investment for darker skin tones?

Find out everything you need to know about getting your next (or first) tattoo with all-white ink here.
White Ink Tattoos: What Are They?
You probably already know what a white ink tattoo is if you're considering getting one. Our love for breaking things down step-by-step is well-known. An artist who uses only white ink to create a white ink tattoo uses only white ink. White ink operates differently when applied to the skin, especially deep skin tones, even though the tattoo process doesn't differ. A white ink application on the skin, for example, allows the skin color to pass through the opaque ink more easily than darker inks. White ink, however, may still be an excellent choice if you are looking for a more subtle design.
White Ink Tattoos on Dark Skin vs. Fair Skin
When using white ink, the tattooing process isn't much different. It is more related to the healing process of a tattoo. Due to the skin filter that forms as ink heals (for fair or dark skin), the tattoo aftercare process is critical to preserving ink, especially when working with white ink. The effect of white inks on the skin tends to be more 3D, regardless of skin tone. The white ink will, however, lose its luster over time.
The Process of Getting and Caring for a White Ink Tattoo
If you design a white ink tattoo, how should you take care of it? There is no need to think too much about it. Taking care of a white ink tattoo is similar to taking care of any tattoo. You should, however, always follow the artist's instructions for cleansing and moisturizing. It is most important to avoid exposure to the sun while getting a tattoo. Sun protection is essential for tattoos. When your skin absorbs the sun's rays, they break down the ink in your tattoo, causing it to fade.

Perhaps you are wondering if your new tattoo can be protected by sunscreen. I am sorry to inform you that the answer is no. You should only apply SPF to tattoos after they have fully healed. While your tattoo is healing, you should avoid direct sunlight exposure, seek shade, and cover it with loose clothing as much as you can.

It is up to you to determine the ideal length for a white tattoo. Depending on the individual and their healing process, ink quality, or the artist, it can vary. To maintain the overall tattoo art tattoo of ink and white ink, as well as tattoos in general, it is important to take proper care of your tattoo at first.

It is inevitable that tattoo ink will fade over time. The white color of the ink, however, fades faster than other colors because of its lighter color. Be sure to keep that in mind when choosing designs and inks.
How Can You Tell if Your Tattoo is Healing Properly?
It is recommended to see your doctor as soon as possible if you notice severe pain, swelling, heavy or oozing blood, headache, or fever after a tattoo service. A red bump around the tattooed area is the most common early sign of a tattoo infection. If the red bump is caused by a needle stick, the symptoms should subside after a few days. If your symptoms persist or worsen, or if you have a fever, swelling in the tattooed area, pus oozing out, or hard raised tissue, you should see a doctor.
Final Thoughts
There is a place for white ink tattoos in the tattoo world. It is important to keep in mind the subtle nature of white ink in addition to your skin tone before asking a tattoo artist to use only white ink. Work with tattoo artists who know their stuff, and who are 100% honest with you about how your tattoo designs will wear over time. The artwork you have on your skin is often permanent, so you don't want to regret it later.
Disclaimer – Information provided in the blog article is based on personal opinions and experiences, for general reference only. The blog article may contain external websites or resources, if any of the content belongs to the original copyright holder, please contact us for removal.