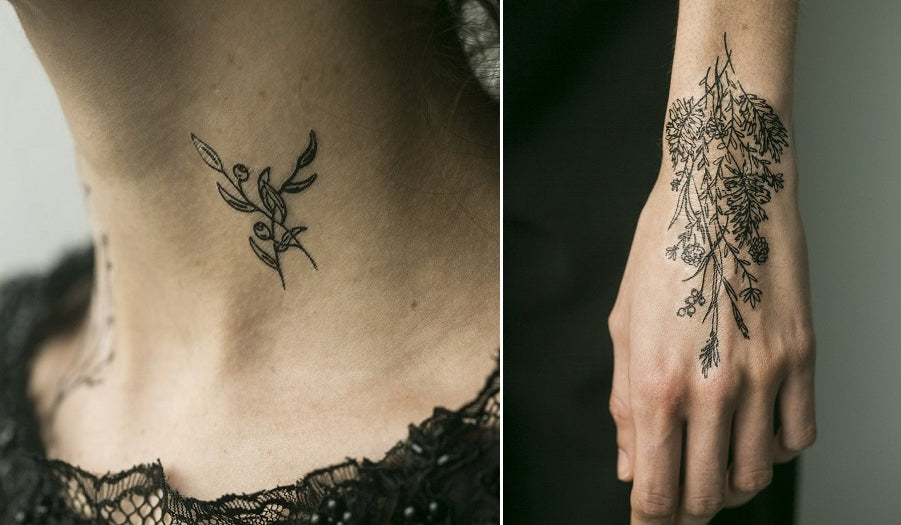 Sublime temporary tattoos to see what they look like before getting started for real.
You've wanted to get a tattoo for a very long time, you think about it all the time. You want to take the plunge, but you would still like to see what it will look like before you start? Temporary tattoos are perfect for testing which part of the body you want to get tattooed on.
Significance of Temporary Tattoos
An ephemeral tattoo is a great way to test out the size and design of a tattoo before committing to it. Additionally, a tattoo machine can be used to create a more permanent version of the tattoo. Because sometimes we want a big tattoo, while a small delicate tattoo would be just as pretty, especially to start. There's nothing like doing tests with an ephemeral tattoo to be able to observe the rendering, decide on the size of the tattoo, its design or even the place of the body on which you prefer to see it appear.
The advantage of the ephemeral tattoo is that you can find them in all sizes and at low prices since the prices start at a few dollars for the little ones. It is of course possible or even advisable to order several of different sizes to be able to test them on different parts of the body and see the tattoos or sizes that we like the most. The objective of the operation is then to see if the rendering corresponds to what we imagined at the start.
How to Apply a Temporary Tattoo
Temporary tattoos come in a variety of styles and designs, from classic black and white to colorful and complex designs. They can be applied quickly and easily with just a few simple steps. All you need is a damp cloth, some rubbing alcohol and your chosen temporary tattoo. First, make sure the area you want to tattoo is clean and dry. Then, remove the clear plastic sheet from the tattoo and place it face down on the skin. Wet the cloth with rubbing alcohol and press it firmly onto the back of the tattoo for 30 seconds. Finally, remove the cloth and let the tattoo dry for a few minutes before touching it.
They are also perfect for special occasions such as birthdays, weddings or festivals. Furthermore, they are much cheaper than permanent tattoos and can be easily removed with rubbing alcohol or baby oil.
Do you want to take the leap into tattooing, but before that, you would like to test the ephemeral tattoo? Discover right away our selection of the 10 most beautiful temporary tattoos to get an idea before you start for real:
Cosmos temporary tattoo
Temporary tattoo A Bouquet on the Cuff
Little Berries temporary tattoo
Temporary tattoo bracelet of daisies
Field flower temporary tattoo
Gypsy flower temporary tattoo
Sprigs of flower temporary tattoo
Floral cuff temporary tattoo
Flower farandole temporary tattoo
Safety of Temporary Tattoos
When it comes to safety, temporary tattoos are generally considered safe as long as you follow the instructions on the packaging. However, please bear in mind that some people may have allergic reactions to certain ingredients in temporary tattoos. If you experience any redness, itching or swelling after using a temporary tattoo, remove it immediately and seek medical attention if necessary.
Temporary tattoos are a great way to express yourself without committing to a permanent design. They come in a variety of styles and designs and can be applied quickly and easily with just a few simple steps. Plus, they are much cheaper than permanent tattoos. So, if you are looking for a fun way to express yourself or just want to try out a new look without committing to a permanent tattoo, temporary tattoos are the perfect solution!
Disclaimer – Information provided in the blog article is based on personal opinions and experiences, for general reference only. The blog article may contain external websites or resources, if any of the content belongs to the original copyright holder, please contact us for removal.