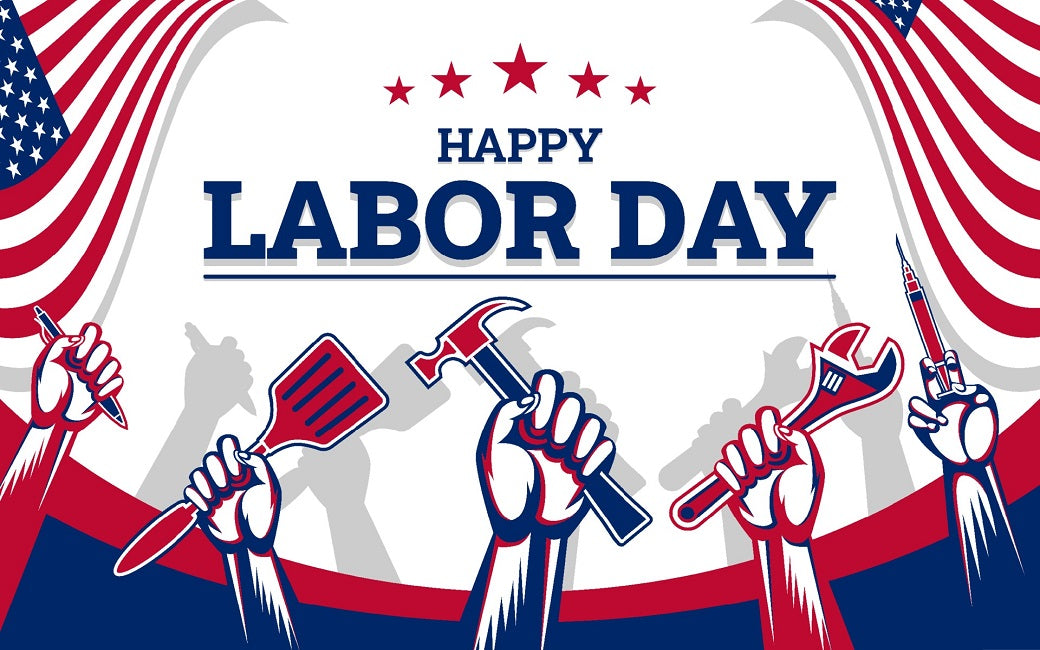 Welcome to the Favvosee Labor Day Sale!
From now until September 10th, take advantage of our biggest sale of the year! 15% off sitewide, plus free shipping. Whether you're a beginner tattoo artist or an experienced tattoo artist, we've got you covered. So start shopping now and take advantage of great deals!
Reading Guide
1. The origin and timing of Labor Day
2. Labor Day Activities
3. Favvosee Promotions
Please check the details below:
1. The origin and timing of Labor Day
The first Labor Day in the United States was celebrated on Tuesday, September 5, 1882, in New York City. It became a federal holiday in 1894. The day honors workers and the labor movement.

Labor Day was created by the labor movement in the late 19th century as a way to celebrate workers and their achievements. The day is also meant to be a reminder of the struggles that workers have faced throughout history.

The first Labor Day parade was held on September 5, 1882, in New York City. The parade was organized by the Central Labor Union, a federation of labor organizations. At the time, most workers worked 12-hour days, seven days a week. The parade was a way to show unity among workers and to demand better working conditions and pay.

Over the years, Labor Day has become a symbol of the end of summer. For many people, it is a day for barbecues, picnics, and other outdoor activities.

Labor Day wasn't created to be a "day off." It was created to celebrate workers and their achievements. The United States labor force has always been strong, and it has always been an important part of our economy.

Today, we celebrate Labor Day with sales and discounts on everything from clothes to cars. But it's important to remember what the day is really about: celebrating the hard work and dedication of American workers.

2. Labor Day Activities
No matter where you are in the world, chances are good that you'll find some Labor Day activities going on nearby. In the United States, Labor Day weekend is a chance to relax and enjoy the last days of summer. Many people take advantage of the three-day weekend by going on vacation or spending time with family and friends. Others use the opportunity to get a head start on their holiday shopping.

There are many different events happening across America to celebrate Labor Day. In New York, there will be a parade and street festival. In Los Angeles, there will be a concert in the park. In Chicago, there will be a special ceremony at Soldier Field. And in San Francisco, there will be a picnic in Golden Gate Park. So no matter where you are, you can find a way to celebrate Labor Day!
In many other countries, Labor Day is a time to celebrate workers and their accomplishments. Many countries have parades and other events to honor workers on this day.

If you're looking for something to do over Labor Day weekend, here are a few ideas:

• Have a picnic: Take advantage of the nice weather and enjoy a leisurely meal outdoors. If you're short on time, pick up some pre-made food from your favorite deli or grocery store.


• Go camping: If you love being outdoors, why not spend a few nights under the stars? Pack your tent and sleeping bags and head to your favorite camping spot. Don't forget the marshmallows for roasting over the campfire!

• Attend a street festival: Many cities host festivals with live music, food, and other entertainment. This is a great way to experience local culture and maybe do some people-watching as well.
3. Favvosee Promotions
As of September 10, 2022, as long as you buy products on our website, you can enjoy our labor day discount, up to 15% off!
Get

5% off

when you buy a product
Get

10% off

when you buy two products
Get

15% off

when you buy 3 products
Favvosee is a company specializing in tattoo machines, our products include tattoo machine kits, tattoo pens, and wireless tattoo pens. With its excellent quality and stylish design, it stands out among many tattoo machines and has won unanimous praise from customers.

During the production process, Favvosee uses the latest technology and equipment to ensure that every customer receives a high-quality product.If you have any questions during the purchase or use of our products, please feel free to contact our professional after-sales team.
This activity is available for all products on the website, whether you are a tattoo beginner buying tattoo pens or tattoo machine kits, or an experienced tattoo artist buying tattoo ink, tattoo needles, and other consumables.

You still have time to place an order on our Favvosee official website before September 10! You won't be disappointed with this Labor Day gift!
Disclaimer – Information provided in the blog article is based on personal opinions and experiences, for general reference only. The blog article may contain external websites or resources, if any of the content belongs to the original copyright holder, please contact us for removal.